Top Gear Races
Races against other transport
The show has featured a number of races where Jeremy Clarkson drives a car against other forms of transport, typically involving the other presenters Richard Hammond and James May taking the same journey by combinations of plane, train, ferry or bus.

Top Gear regularly reaffirms that the races do take place for real, and that many of the shots used in the film are then recorded over a few days by retracing the journey. In the case of the Bugatti Veyron race, the Stig drove the car back to Italy, although these shots are filmed so that it is not apparent that Clarkson is not driving. This 32-minute feature took 33 16-hour days to edit.

Car vs. Train - Aston Martin DB9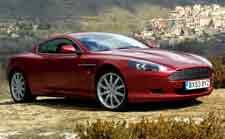 The first race that took place was between an Aston Martin DB9, driven by Clarkson of course, and the Eurostar train and the TGV high-speed train through France. Richard Hammond and James May start the race with walking two miles to the local busstop, criticizing ticket prices and making paper-airplanes from their tickets. Meanwhile, Jeremy hits traffic when he reaches London, which he has to sneak through to be get to the ferry that brings him to Calais in France. Richard and James arrive at Guildford and catch a train to London Waterloo, while Jeremy races down through northern France. Richard and James then catch the train to Paris; when they arrive Gare du Nord, Jeremy is 172 miles ahead. Richard and James get on the TGV train and around 300 miles from the finish line they overtake Jeremy, However Jeremy has one advantage that the train has to go right down to the coastline and slow down and then they have to make another train change, Jeremy arrives in Monte Carlo about 15 minutes before Richard and James.

Car vs. Plane - Ferrari 612 Scaglietti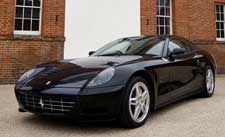 This race started ar the Top Gear base in Dunsfold and finished at a ski lodge in Verbier. Clarkson drove the route in a Ferrari 612 Scaglietti. Hammond and May took a bus to Guildford and a train to Woking where they took a Rail-Air coach to Heathrow before flying to Geneva. Then, a train journey took them to Martigny station and a good deal of waiting around before their connection to Verbier and a coach ride to the lodge. Despite being stopped for speeding in France, Clarkson made up all the ground he lost in the plane segment and overtook Hammond and May just a few hundred yards from the finish.


Car vs. Boat - McLaren Mercedes SLR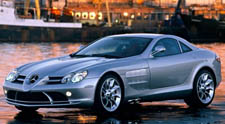 The next race was from Heathrow Airport in London to Oslo, the capital of Norway. Clarkson has to drive about 1300 miles through seven countries including Holland, Belgium, Denmark and Sweden using a McLaren Mercedes SLR. Hammond and May, on the other hand, take a plane to Newcastle then take a bus to the docks and then take a high-speed ferry and spend the night on one of several nightclubs. When they dock, they catch a high-speed speed boat, with the plan to take it all the way to Oslo but the engine burns out. They then proceed to take another boat but the hull is damaged by the rough waves and the pair are forced to land in a town which they never figured out the name of, and start to look for a bus stop to take a bus to Oslo. Clarkson eventually arrives in Oslo, after having to pull over to get some sleep, and is so far ahead he is able to fly home and eat his dinner before Hammond and May arrive in Oslo.

Car vs. Private Plane Bugatti Veyron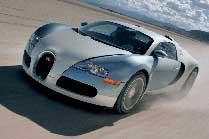 The most recent race was delivering a truffle from Alba in Northern Italy to a restaurant at the top of Tower 42 in London. Clarkson drove a Bugatti Veyron, whilst Hammond and May flew in a Cessna 182 light aircraft, which May flew. Clarkson won, after May and Hammond were forced to land early as May couldn't fly at night and the two had to catch the Eurostar. In all of the races Clarkson has won in the car, albeit very marginally on some occasions.

Multi Transport Race
In one race Clarkson drove a Ferrari 612 Scaglietti from the starting location, through Southern England to Dover then on the Ferry across the channel to France then all the way through to The Alps, across the Swiss border and then another hundred miles or so to a ski lodge.

Meanwhile, Hammond and May walked to a coach station where they caught a coach to Heathrow Airport. Then after the flight to Switzerland they took a train to a connecting station, but then had to wait for what turned into a critical amount of time for the connecting train to a coach depot where they took a coach most of the remainder of the journey before a ten minute walk.

At one point in France, Clarkson was pulled over for speeding. It cost him 25 minutes and ?60 but it could be considered worth it as Hammond and May were just a few dozen metres from the ski lodge when Clarkson passed them. He stopped the car to greet his co-presenters, but abruptly remembered the race, jumped back in the car, and sped ahead to the ski lodge. He had just enough time to park, sign in, get up to a balcony and recline in a chair with a beer looking smug before Hammond and May arrived. Clarkson had also been hampered on his journey by an "irritating hum" which he eventually traced to a faulty windscreen wiper, a problem he attempted (and failed) to address by binding the offending item down with gaffa tape - naturally, right before it began to rain.

List of races against other transport
Aston Martin DB9 against the TGV and Eurostar trains from the studio in Surrey to Monte Carlo (Season 4, Episode 1)
Ferrari 612 Scaglietti against a plane from the studio in Surrey to Verbier (Season 5, Episode 8)
Mercedes-Benz SLR McLaren against a plane, ferry and speedboat from Heathrow Airport to Oslo (Season 6, Episode 6)
Bugatti Veyron against a Cessna 182 light aircraft, between Alba in northern Italy and Tower 42 in London. (Season 7, Episode 5)

List of races against athletes
Other races have involved one of the presenters in a car against an athlete (all of these races have been lost by the car, except where noted):

Fiat Nuova Panda with Clarkson driving against runner AC Muir on a modified London Marathon route on a weekday morning rush hour.

Audi RS4 with Clarkson driving up a mountain road against rock climbers (Leo Houlding and Tim Emmet) climbing the same distance vertically, then racing back down (with the climbers BASE jumping).

Renault Clio III with May driving down the narrow streets of Castle of S?o Jorge's district in Lisbon against Gee Atherton, a downhill bike racer, which May nicknamed, because of the helmet, Darth Vader.

Porsche Cayenne Turbo S with Hammond racing down a 2-mile long rally course in Cyprus against an army parachutist starting and finishing at the exact same location in the air as Hammond was on the ground.

Off road driving in a Tomcat, a very powerful Land Rover-based 4x4 equipped with a 4-litre TVR V8 engine, driven by Hammond, who described it as "a combination of British technology and Icelandic levels of lunacy",against a jet powered kayak 'driven' by Shaun Baker along an icy stretch of water in Iceland. Apparently the kayak won, but examining the footage, it seems that Hammond was actually on the bridge before the kayak went under it.

Mitsubishi Lancer Evolution driven by Norwegian rally champion Henning Solberg with May co-piloting, against Hammond and the Norwegian Olympic Bobsled team, each taking similar routes down a mountain in Lillehammer, Norway.

Mitsubishi Lancer Evolution Group N rally car and a Bowler Wildcat driven against an mountainboarder down the "Green mile" an all-terrain boarding course. While the Mitsubishi lost, the Bowler managed to defeat the mountainboarder.

Peugeot 207 with May driving a six mile course through the streets of Liverpool from a car park to the Liver Building against two traceurs (Daniel Ilabaca and Kerbie). The traceurs won the race, despite May thinking initially he had won, by revealing that they had not only arrived first, but had climbed to the top of the building.

Ford SportKa driven by May against a messenger pigeon. The race was won by the pigeon despite the car being fitted with satellite navigation. This was mainly due to May mis-programming the Satellite Navigation system in the car.

Ronnie O'Sullivan's Mercedes SL500 raced around the track by the Stig whilst Ronnie O'Sullivan had to pot 14 Snooker Balls.

Other races
Ford Transit Anniversary driven by Sabine Schmitz in an attempt to beat Clarkson's time around the N?rburgring race track in a diesel powered Jaguar S-type. Despite stripping the van of everything that wasn't needed (including Hammond) and some quick D.I.Y aerodynamic modifications Sabine still lost by 9 seconds.

The team have also taken part in a race where The Stig, driving a Caterham Super Seven leaves the factory in Caterham, Surrey and has to drive to Scotland's Knockhill Racing Circuit and cross the start/finish line before Clarkson, Hammond and May can build one from scratch in a pit garage at the side of the circuit, and get it across the start line. They also had a GPS tracking device so they could keep track of the Stig's progress.

Clarkson, Hammond and May eventually managed to build the car - with some difficulties including Clarkson not wanting to read the instructions (resulting in him putting in the chairs not only too early, but also putting one in backwards)- and get it across the start line to win. The last few minutes of the race the presenters were in a panic because the Stig was almost on top of them, but when he never showed up, it was revealed the Stig was arrested by the Fife police for speeding.

Series 10 of Top Gear will feature a race between Clarkson (driving an Icelandic Jeep) and Matty McNair and her Dog Sled team. They will be racing across the ice in the Arctic Circle from Resolute Bay in northern Canada to the Magnetic North Pole. Filming for this took place in April/May 2007.

JEREMY CLARKSON NEWS

Notice: Trying to get property 'ARTICLE' of non-object in /var/vhosts/www.jeremyclarkson.co.uk/includes/templates/tpl_news.php on line 5

Warning: Invalid argument supplied for foreach() in /var/vhosts/www.jeremyclarkson.co.uk/includes/templates/tpl_news.php on line 7