JC - An Introduction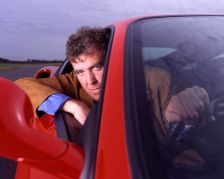 Clarkson is most associated with the British motoring programme Top Gear, which he has presented since 1989. In 2002 the show was relaunched in a new format after a brief period off the air and has since then won various TV Awards. Top gear is now the most watched TV show on BBC Two, and is also shown in over 100 countries around the world. His current co-presenters are James May and Richard Hammond.

JC has periodically released motoring-based videos, such as "unleased on cars." Over the years, his videos have shown him driving many exotic cars, including a Ford GT40 which had been specially adapted to accommodate taller drivers; Clarkson is 6 feet 5 inches (1.96 m). He is also known for destroying his most hated cars in various ways, including catapulting a Nissan Sunny using a trebuchet, and dropping onto a caravan a Porsche 911 (after plunging a piano onto the bonnet and dousing it in hydrochloric acid, amongst other things).

For three years,Clarkson had his own chat show; Clarkson, on which he was most noted for offending the Welsh by placing a 3D plastic map of Wales into a microwave oven and switching it on. He later defended this by saying "I put Wales in there because Scotland wouldn't fit". Similarly, he once removed the USA from a map and renamed the resultant space the 'South Canada Sea'.

After the dismissal of Angus Deayton, Clarkson was one of a number of guest hosts recruited to present the topical panel show, Have I Got News For You. He was the first such host never to have previously been a guest of the programme. Clarkson has also appeared as a guest on the BBC series QI 4 times, 'winning' twice.
Clarkson Ariel Atom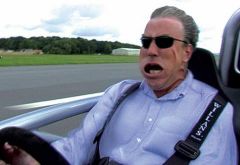 Clarkson has presented a number of shows focused on history. For example, he presented a programme looking at Victoria Cross winners, in particular focusing on his father-in-law Robert Henry Cain who won the VC during Operation Market Garden at Arnhem in World War 2. In 2007 he presented a programme about the St. Nazaire Raid (also called Operation Chariot), which took place in WWII. A subsequent programme showed how the graphics were created, the highlight being the construction and blowing up of a scale model of the HMS Campbeltown the ship that was used in the raid.

In addition to television, Clarkson also had a small role in the UK release of the 2006 Disney Pixar movie Cars as the voice of Harv, Lightning McQueen's agent.

"Not a man given to considered opinion," according to the BBC, Clarkson is known to be opinionated and forthright in his views. The Economist, on the subject of road pricing in UK, has described him as a "skillful propagandist for the motoring lobby".


JEREMY CLARKSON NEWS

Notice: Trying to get property 'ARTICLE' of non-object in /var/vhosts/www.jeremyclarkson.co.uk/includes/templates/tpl_news.php on line 5

Warning: Invalid argument supplied for foreach() in /var/vhosts/www.jeremyclarkson.co.uk/includes/templates/tpl_news.php on line 7